Talks
2019.12.04
Asia's Largest Space Design Award "KUKAN DESIGN AWARD" Launched !
The Japan Design Space Association (DSA) and the Japan Commercial Environmental Design Association (JCD) are major design organizations a number of specialists in Japan's space design industry belong to. Various awards that had been organized individually by DSA and JCD were integrated and the KUKAN DESIGN AWARD was launched in 2019.
What is the reason for launching the Asia's largest design award now? A report of the first award ceremony held at Meiji Kinenkan on October 4, 2019 is given below, in order to help one understand the purpose and future prospects of the award. (December 2019)
Japan's Space Design Is Contributing to the World
Evaluating the "Space" not the "Shape"
Giving Hope to Young Aspiring Designers
Awaken the Truth with the Power of Design
Aiming to Expand the Award Internationally
1. Japan's Space Design Is Contributing to the World
– The Japan Design Space Association (DSA) and the Japan Commercial Environmental Design Association (JCD) had been individually organizing design awards based on their respective design philosophy for approximately fifty years.
In today's diversified society, approaches from different angles are needed to meet various roles space is expected to play. The two organizations therefore decided to join forces with each other, get the entire industry involved, and establish a design award that will have a big impact on the world.
A new award called "KUKAN DESIGN AWARD" was established three and a half years after the start of the project. SUZUKI Shigechiyo, Exective Creative Director at Nomura Co., Ltd. and Chairperson of DSA, summed up the story behind the award as follows:
SUZUKI: We usually see more cases where awards get divided up, while cases where two awards become one are very rare. There are many design organizations in Japan, including DSA and JSD, and the problem was that the scale of awards organized individually by respective organizations were small. The two organizations overcame various difficulties together and finally integrated the awards. We can communicate with each other and exert new power by getting together.
As you have seen at the award ceremony, people engaged in space design generate tremendous energy when they get together. Their power to enhance economic activities and contribute to society is more than expected. I am certain that Japan's space design contributes to the world, even though they had never declared that out lout or become self-conscious before.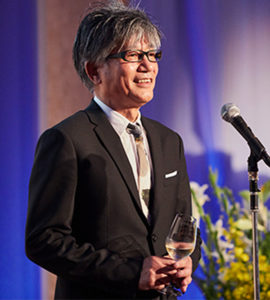 SUZUKI Shigechiyo "鈴木重千代"
Chairperson / Japan Design Space Association.Executive Creative Director / Nomura Co., Ltd. Born in 1956. Graduated from Department of Architecture, Tama Art University. Joined Nomura Co., Ltd. in 1989. Specializes in a wide range of design including exhibition, commercial facilities, museums and more, as well as art direction and supervision. He has won numerous awards including the Display Design Award, Minister of International Trade and Industry Award, and Good Design Award Gold Award.
2. Evaluating the "Space" not the "Shape"
– For the first KUKAN DESIGN AWARD, eleven hundred entries were submitted, of which nine-hundred and ninety-six entries were from Japan and one-hundred and four entries were from overseas. The number of entries, eleven hundred, is comparable to the largest design award in Asia. In terms of categories, "residential" was added to designated categories in previous awards organized by DSA and JDC. We established an award system comprising three groups and eleven categories with an aim of creating a design award encompassing all space design categories.
They adhered to the concept of "design selected by the Japanese" with an aim of promoting Japan's space design to the world in addition to increasing its value. The jury comprises designers, producers, creators, art directors, architects, critics, journalists, brand directors and more, and the evaluation criteria were established based on social and diversified viewpoints. In the first round of judging, three-hundred and thirty-two entries were nominated (Longlist), and in the second round of judging, the list was narrowed down to the "Best 100" entries (Shortlist).
In the third round of judging, the Gold, Silver, and Bronze Prize in each category were selected. In the final round of judging, "KUKAN OF THE YEAR / Nikkei Inc Award 2019" was selected among the Gold Prize winners of all categories. We talked with jury members TANIGAWA Junji and KOSAKA Ryu and asked how difficult it was to judge entries encompassing a wide range of categories.
TANIGAWA:We had expected that we would be dealing with a wide range of genres because the two awards were integrated. We have to evaluate a wide range of works from a work based on architectural thinking to a lovely display based on the same criteria and determine ranks. Then, what is the criteria? It would easier to look at actual works and decide, but in some cases works are located far away or they don't exist anymore. If that is the case, we visualize the actual situation based on photos and movies, interpret the designer's message, and considered various aspects including the design process.
While exchanging opinions including key points and the best quality of each work among jury members, there is a moment when all of us agree. It was in this way that we gradually established criteria in each category. Some of the Gold Prize winners encompass categories, because the works at the level of the Gold Prize convey clear messages.
The work winning the "KUKAN OF THE YEAR" Award sets the direction of this award. We had many discussions and agreed that "Hiroshima Peace Memorial Museum" was the most appropriate choice for this era. It was not simply about the exhibition display method––it was highly evaluated by its very existence. One of the unique characteristics of this award is that we are asked to judge tangible things but actually evaluating based on intangible qualities of each work. We are not talking about "shape" here–– we are talking about "space." What sets this award apart from the rest is that space sets the fundamental criteria. It will potentially evolve into a more interesting award in the future.
In my view, it conveys the essential quality of Japanese culture, because the works seem to embody the essence of Japanese design in spatial forms rather than space design itself.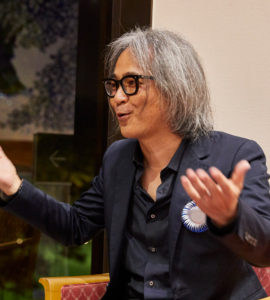 TANIGAWA Junji "谷川じゅんじ"
CEO / JTQ Inc., Space Composer. Born in 1965. Established space creative company JTQ in 2002. Specializing in fields including various events, commercial space development, urban revitalization projects, regional revitalization programs, corporate branding and more based on the theme of "using space as media to convey messages." Main projects include Kansei Exhibition at the Musée des Arts Décoratifs in the Palais du Louvre, Yakushiji Hikari Emaki for the 1300th anniversary of Nara Heijokyo, Ginza Six Grand Opening Ceremony and more.
3. Giving Hope to Young Aspiring Designers
KOSAKA:The judging process was very difficult. But in retrospect, I felt that outstanding works were naturally chosen across multiple categories…maybe it sounds like a guarded answer (laugh.) Because the two associations with different characteristics (although they appear similar) got together, they occasionally disagreed. Nevertheless, all of the categories already designated by both associations are included in the award. While architecture and commercial spaces are created based on functions, space design including exhibitions is genuinely creative. DSA's categories including exhibition, PR, and creative art were very fresh to me, and I felt a tremendous power they were generating.
When one wins, others lose. I hope their creativity will spark more vigorously next time, driven the frustration of loss. I think the possibility of winning in multiple categories is very encouraging.
There are many design awards organized individually by associations in the interior design industry. But it is important that everyone gathers and decides the best work of the year like the world cup games. Otherwise, young people who aspire to work in this industry would not find it attractive. The award should give them hope. Although I am a jury member, I actually want to be a player of the game in the future (laughs).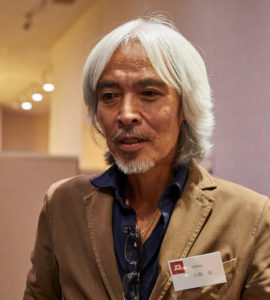 KOSAKA Ryu  "小坂 竜"
Vice President / Japan Commercial Environmental Design Association
Executive Creative Director / Nomura Co., Ltd. & Senior Manager / A.N.D. Born in Tokyo in 1960. Graduated from Department of Architecture, Musashino Art University. Joined Nomura Co., Ltd. in 1985. He has been engaged in the design of many acclaimed restaurants and hotels including W Guangzhou FEI, Mandarin Oriental Tokyo Main Dining, Shin Marunouchi Building Environmental Design, With the Style Fukuoka and more.
4. Awaken the Truth with the Power of Design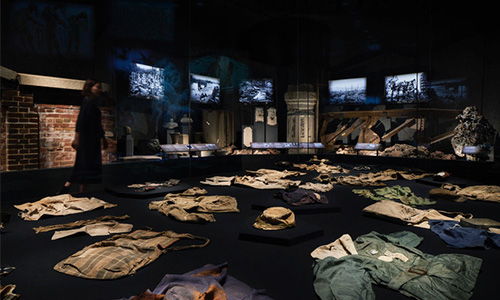 – The commemorable winner of the first "KUKAN OF THE YEAR / Nikkei Inc 2019 Award" was "Hiroshima Peace Memorial Museum."
The museum went through a third overall renovation and the renewal of exhibition in April 2019. The exhibition mainly focuses on expressing the misery of war and conveying pains and sorrows of atomic bomb survivors and the bereaved by displaying articles left by the deceased and paintings and drawings by atomic bomb survivors.
Tanseisha was in charge of the exhibition plan, design, production, and construction. We talked with Tanaka Toshitake of Tanseisha who lead the exhibition design and asked how they approached the extremely challenging and serious theme.
TANAKA:The question was how we could express the theme of "Hiroshima-Peace" through space design and what we could convey through atomic bomb survivors' perspectives. During the design process, I couldn't help feeling whatever we were designing was far from the truth. It was a big challenge to sincerely face the theme of "Hiroshima-Peace" and we had to go through trials and errors.
The truth is conveyed through the actual objects exposed to radiation in the atomic bombing and the atomic bomb survivors' words. The question was how we could bring out and convey the truth through design. We wanted to create something that resonates in the viewers' minds rather than simply showing innovative and new design. The exhibition is composed around the key objects and planned in such a way that visitors see photos of atomic bomb survivors first and perceive the same scenery that atomic bomb survivors had seen at that time.
To be honest, it was difficult to create strong impressions using something other than innovative or new design features, from a designer's viewpoint. But this experience made me re-acknowledge my stance as a designer and the importance of confirming the direction toward the next step in the design process.
We hope that people from around the world think about peace through their experiences in this facility. The project initially started ten years ago. I am extremely grateful that we were able to work sincerely on this project with the museum director and curators while learning from trials and errors along the way. After we received the award, the museum director said to me, "We are grateful that we were able to work with you for ten long years." I turned forty years old this year. My thirties were entirely dedicated to this project. I am so grateful that we won the Grand Prix as the fruit of our efforts.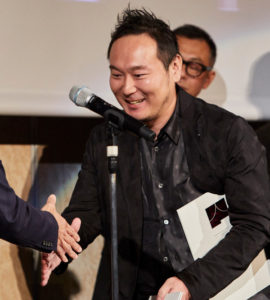 TANAKA Toshitake "田中利岳"
Principal Creative Director / Tanseisha Co.,Ltd. Born in Tokyo in 1979. Graduated from Department of Architecture, Graduate School of Engineering, Tokyo University of Science. Joined Tanseisha Co., Ltd. in 2005. Main projects include Satsumasendai City Fire Prevention and Control Administration Training Center and more. He has won numerous awards including DSA Grand Prix, NDF Grand Prix, BEST OF YEAR INTERIOR DESIGN 2017(USA)and more.
5. Aiming to Expand the Award Internationally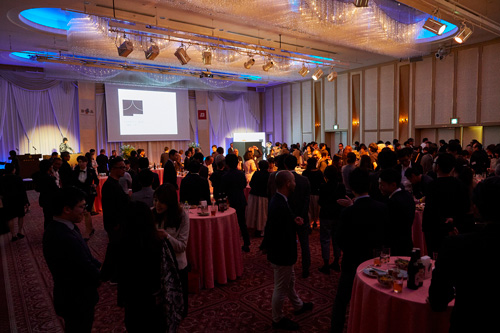 – A reception was held in the next room after the award ceremony, and award winners and those involved mingled actively. The first KUKAN DESIGN AWARD ended successfully. We talked with the JCD Chairman Kubota Shigeru and asked him about his future prospects for the award.
KUBOTA:We hope to develop this award further so that it contributes to strengthen Japan's design industry and disseminate the value of Japan's space design to the world. While we have as many categories as eleven, some areas are still left out and we hope to expand the range to include residential and architectural projects. We are quite satisfied with the outcome of the first award.
We hope to resolve issues raised this time and make improvements as necessary. One of the biggest issues is public relations. We need to publicize the award and let the world know its purpose and aim, as well as what type of works are selected as winners. We hope to send messages not only to Japan but also to the world and increase visibility of the award. We also hope to distribute information about space design through the media, because it is rarely covered by the news media in Japan today.
On the occasion of the award launch, we are also going to organize exhibitions on regular basis. The first exhibition will open at "GOOD DESIGN Marunouchi" in Marunouchi for two weeks from February 4 to 16, 2020. Talks and events will be held in addition to the exhibition of the Gold/Silver/Bronze Prize winners' works.
Our ultimate goal is to make this award one of the world's most prestigious and international design awards.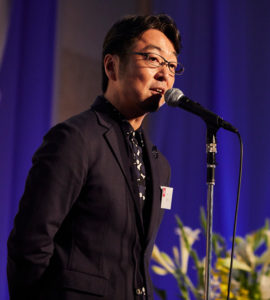 KUBOTA Shigeru "窪田茂"
President / Japan Commercial Environmental Design Association
President / Kubota Architects & Associates.inc. Born in Tokyo in 1969. After working for architectural firms, he established his own practice in 1999. Established Kubota Architects & Associates in 2003. Specializes in design in various fields and business categories including architecture, interior and products. He is also engaged in planning and development, direction, community design and more. Main projects include Galaxy Harajuku, The WAREHOUSE (Kawasaki Tonomachi), overall direction and interior design of METoA Ginza, Mercedes-Benz Connection (Roppongi and other places), Imabari Towel Aoyama Store, café 1886 at Bosch, UT STORE HAR
This article is reprinted from a web column published by Nacasa & Partners Inc.