News
2022.01.21
KUKAN DESIGN AWARD 2021 Online Talk Event 〜Design Making Story / KURASHI SHIGOTO FURUSATO〜
We will hold a talk event with two groups of winners of KUKAN DESIGN AWARD 2021 KUKAN OF THE YEAR.
Through the highly social nature of these two works, we will explore the relationship with the community and the role and potential of spatial design.
The speakers will be not only designers but also clients, so you can expect to hear deep and real stories. This is a must-attend talk event for those who are interested in regional development, local production for local consumption, and sustainability.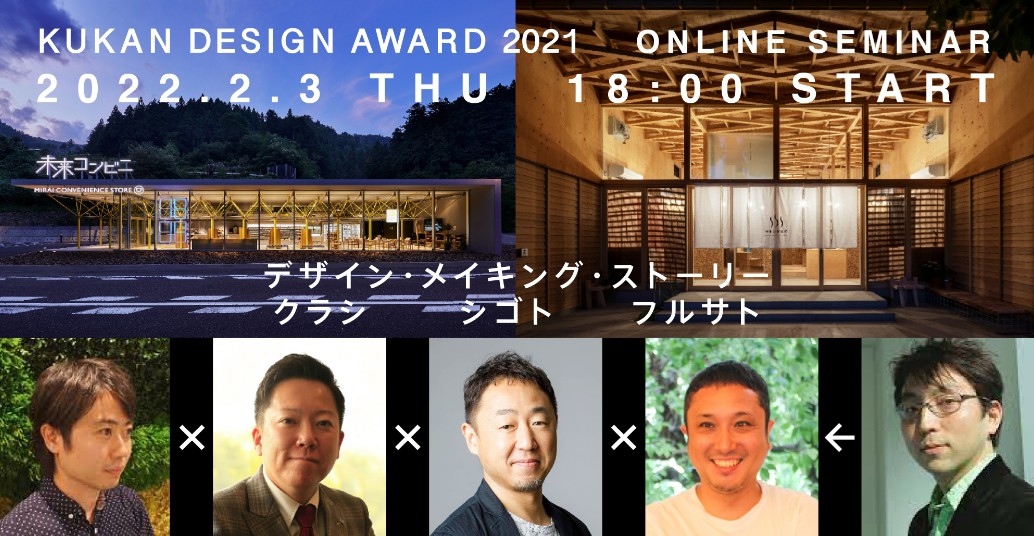 <Date and Time>
Thursday, February 3rd, 2022, 18:00- (approx. 120 minutes)
<Speakers>
「The house with a public bath "KUWAMIZU SENTO"」
Mr. Hiroshi Nishimura (Representative Director, Work Visions)
Mr. Hiroki Kuroiwa (President, Kuroiwa Structural Design Co., Ltd.)
「MIRAI CONVENIENCE STORE」
Mr. Wataru Sato (KOKUYO Chief Designer / First-Class Architect)
Mr. Yasushi Fujita (President/Executive Producer, KITO DESIGN HOLDINGS Co.)
<Facilitator>
Mr. Ryuji Tsuyama (Member of Japan Design Space Association (DSA) / Nomura Co., Ltd.)
<How to watch>
To be broadcasted via Facebook LIVE. Free Live Streaming
https://www.facebook.com/events/2066136380209682
If you "like" the Japan Spatial Design Award Facebook page, you will receive a notification on your Facebook page when the live broadcast starts.
https://www.facebook.com/Kukan.Design.Award
If you click the "Join" button on this event page, you will receive a reminder before the event starts.
<Organizer>
Japan Space Design Award Executive Committee